It can measure both compression and tension springs
Easy operate for condition setting and product number registration on touch panel screen
Product number registration can be registered up to 100th
Spring rate, Free length, Solid hight、Pre- tension, Step operation(Up to 3 steps)
Printing results by built-in Printer
Optional PC software available
Specifications
SW-1
SW-5
SW-10
SW-50
SW-100
Capacity
10N
50N
100N
500N
1kN
Force Resolution
0.0001N
0.001N
0.001N
0.01N
0.01N
Measuring range
1% to 100% F.S.( At the time of  Force measurement  or take Spring rate)

0.5% to 100% F.S.( At the time of  Force measurement  or take Spring rate)

Force Acuracy
±0.2% F.S.
Unit of measurment
N(only in JAPAN  )    At overses it can use unit  kg and lb
Test Speed
10 to 600 mm/min
Max measurable length
205mm
390mm
length resolution
0.001㎜
Length accuracy
±0.05㎜(with in the range 150mm)
Compression plate diameter
Upper 20mm
Lower 60mm
60mm
Hook for tensil test
1 type
2 type
1type
Size
W460×D350×H545 mm
W460×D350×H765mm
Weight
Approx  45kgs

Approx

70kgs
Power Supply
Selectable frorm AC100 to 110V , AC200 to 220V
Print function
Printing results by built-in Printer.
It can Print [Date] resisterd [Model number] [Value] [OK or NG].
<Example of printing>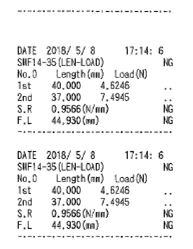 Operation panel
<Measurement Screen>
Set the Step operation, set the comparate value.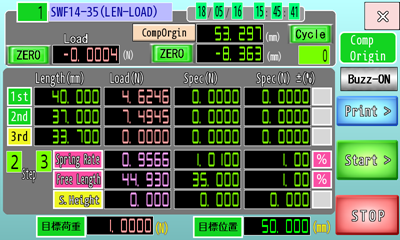 <Test Condition>
Set the measurement condition.
It can save as Item number.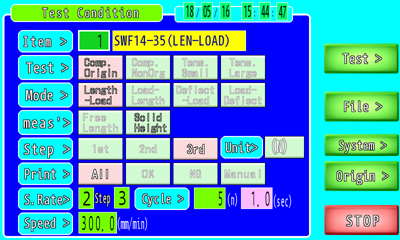 <Item number resist.>
It can resist the Item number.
It can set up to 100th.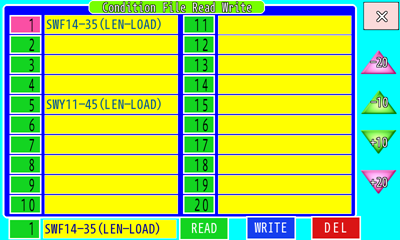 ※All specifications may be changed without a notice